Arttitud Art Festival
04-09-2015 05:35 pm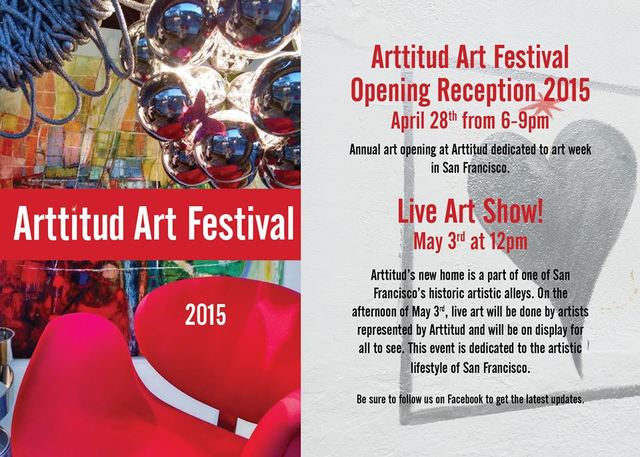 Come celebrate one of the biggest Art weeks of the year!
In conjunction with ArtMRKT (San Francisco International Art Fair), Arttitud presents "Arttitud Art Festival", an exhibition featuring fine art in traditional and contemporary styles by select group of artists. Curated by Tatiana Takaeva.

On April 28th from 6-9pm, Arttitud will be hosting an opening reception to kick off the week. Light refreshments will be served.
*Special guest!*
Superstar DJ Richard Habib will be the man of music!

Come by from 12-4pm on May 3rd to watch live painting at Arttitud. The new location of Arttitud is home to one of San Francisco's historic art alleys. This live painting will take place along Arttitud's outer wall. The featured artists will be Arttitud's own!

Click the link to view our 2015 Arttitud Art Festival Catalog:
https://www.dropbox.com/s/65kx6crz0m53ow5/Art%20Week.pdf?dl=0
Facebook event page: https://www.facebook.com/events/1378034442524641/
1121 Howard Street (at corner of Langton)
San Francisco, CA 94103
View Photos!


I will be exhibiting paintings related to the rooftop views from SOMA Grand!
To view photos from the opening reception and of the "Live Art Show", please visit here!



Rooftop View from SOMA Grand II, by Patricia Araujo




Here's my latest creation titled, "Pacifica, Happy 75th"
painted at Arttitud's outer wall!
She can be viewed any day, any time!


1121 Howard Street @ Langton Alley
San Francisco, CA 94103


---