GEOMETRIC GODDESSES
02-15-2012 12:01 pm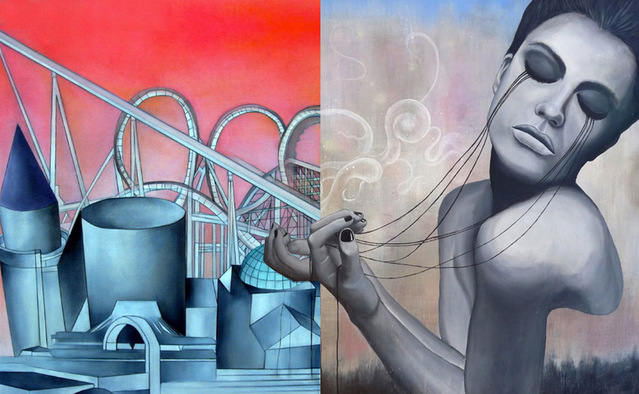 Left: New City, oil on canvas by Patricia Araujo, and Right:Dissolving Ego, oil on wood by Spencer Sass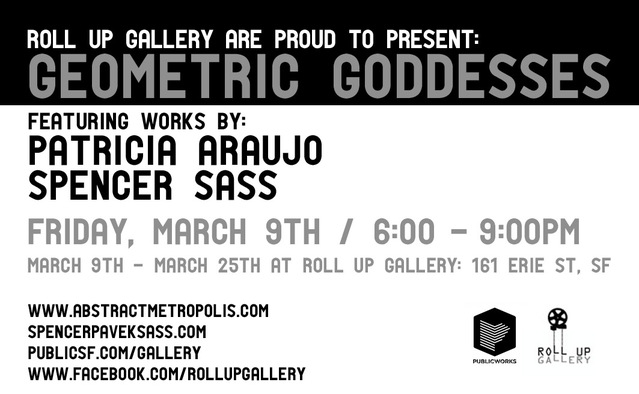 The perfection of forms and beauty.
A new world to explore at Roll Up Gallery.
We are proud to present:
"Geometric Goddesses"
Mental and physical transformations.
Links among asphalt and harmonic dreamy women.
The evolution of the transitions.
Fusion between energies.

GEOMETRIC GODDESSES
Paintings by Patricia Araujo and Spencer Sass
Opening: Friday, March 9th, 2012
6:00 - 9:00pm
Exhibit runs through March 25th, 2012
Curated by: Betty Bigas
ROLL UP GALLERY (@ Public Works)
161 Erie Street, San Francisco
between 13th & 14th Streets @ Mission Street
Gallery opens during the Public Works evening events and by appt please contact:
b.bigas@publicsf.com and (415) 439-9601

PUBLICSF.COM/GALLERY
www.facebook.com/RollUpGallery

The opening will be hosted by Mascarade Liqueur
http://www.mascaradespirits.com/




VIEW ALL PHOTOS FROM THE OPENING HERE!
Some photos below from the opening: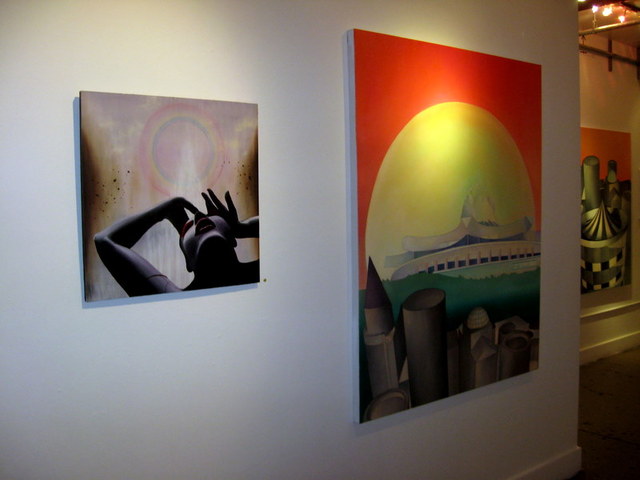 Paintings by Spencer Sass (left) and Patricia Araujo (right)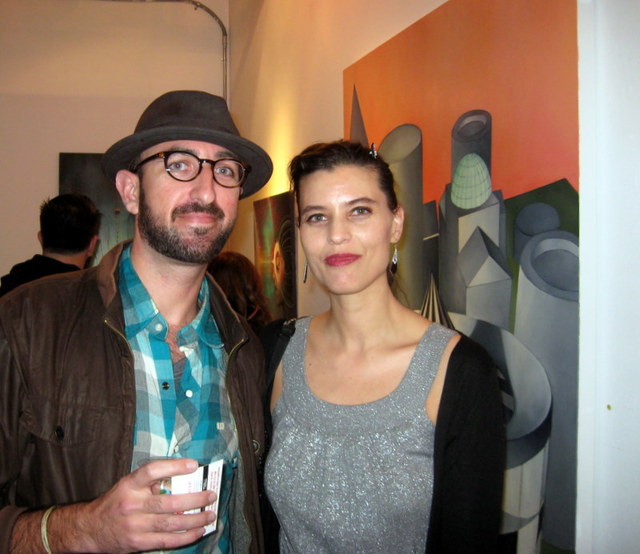 Artists: Spencer Sass and Patricia Araujo
Patricia next to her painting, "Futur". Photo courtesy by Alan Bamberger @ Artbusiness.com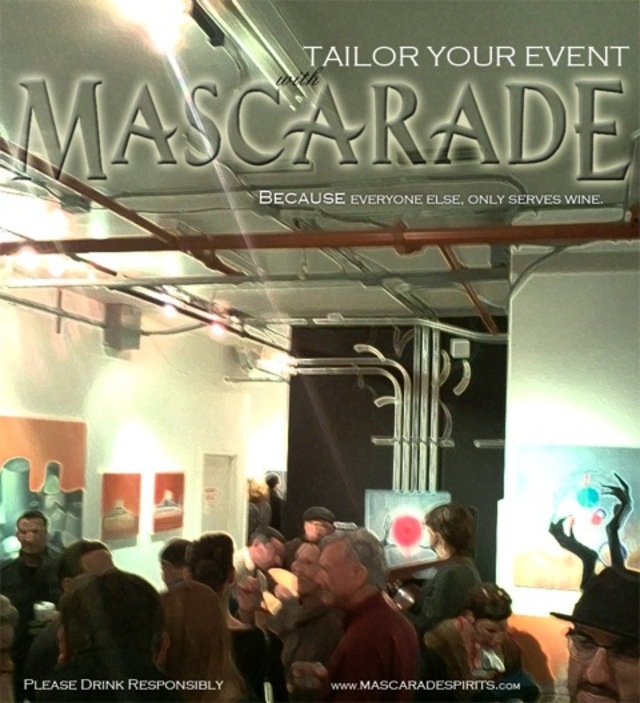 PRESS AND REVIEWS:
Click on logos below to read recent press about "Geometric Goddesses" exhibition:




VIEW CANDID VIDEO OF THIS EXHIBITION!


Roll Up Gallery is pleased to present, "GEOMETRIC GODDESSES" - the perfection of forms and beauty,
mental and physical transformations, and the links among asphalt and harmonic dreamy women.
A two Person Art Exhibit featuring paintings by Patricia Araujo and Spencer Sass.
This exhibition also celebrates Patricia Araujo's Book Release entitled, "TOMORROWLAND TODAY",
a monograph that includes her complete series of paintings, which many will be showcased for the first time
during this upcoming exhibition.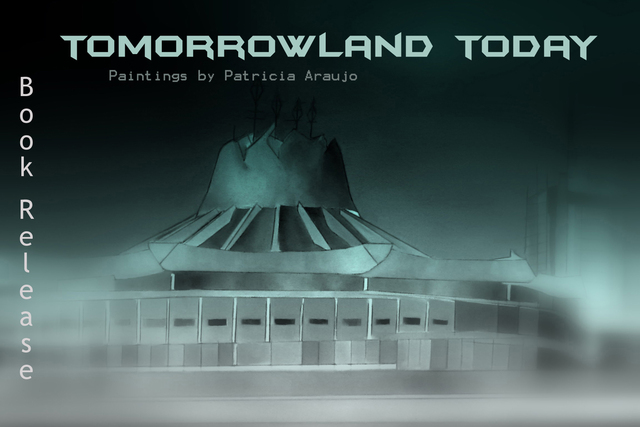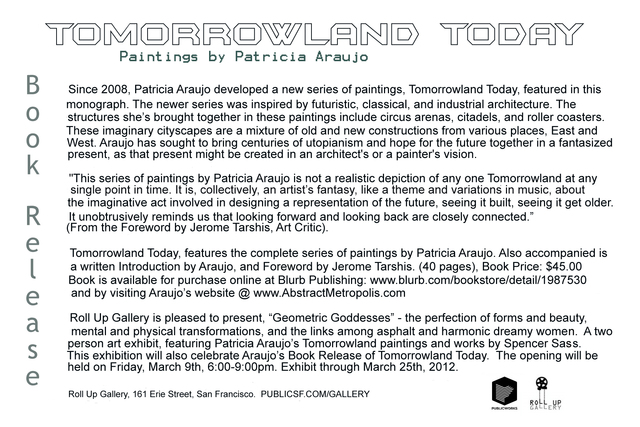 To learn more about Tomorrowland Today, please read Araujo's written introduction :
INTRODUCTION TO TOMORROWLAND TODAY

Tomorrowland Today is available for purchase online at Blurb Publishing:
www.blurb.com/bookstore/detail/1987530
Book includes a written Introduction by Patricia Araujo
and Foreward by Jerome Tarshis, Art Critic.
Hardcover/dustjacket, 40 pages, $45.00 (plus tax & shipping).
Shipping is available globally.

To view Book's Preview, see below!
Book is also available for purchase at:
William Stout Architectural Books
804 Montgomery Street
San Francisco, CA 94105
phone: 415.357.1860



ABOUT THE ARTISTS:

PATRICIA ARAUJO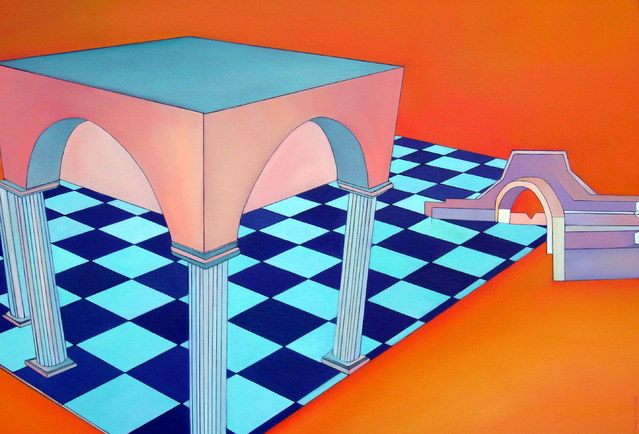 The Meeting, 36" x 48", oil on canvas, by Patricia Araujo

Patricia Araujo was was born in Miami, Florida, the daughter of Colombian parents. She grew up in Bogota, Colombia and lived there until the age of 19. She began drawing at a very early age, always intrigued by architecture and form. After completing high school in Bogota, Araujo moved to Northern California and studied architecture, painting, and photography. In 2005 she obtained her second B.F.A in Painting, from the San Francisco Art Institute.

Araujo has been painting San Francisco's central city architecture for over a decade. Her interest in the Mid-Market neighborhood continues, addressing the themes of urban growth and decay. Since 2008 she also devoted herself to a new body of work, "Tomorrowland Today". The newer series was inspired by futuristic, classical, and industrial architecture. Araujo's imaginary cityscapes are a mixture of old and new constructions from various places, East and West.

She has been exhibiting in San Francisco since 1998. In 2008 she published her first book, entitled "SOMA SEEN". Her work has been written about in the San Francisco Chronicle, ARTslant, Beyondchron, and the San Francisco Bay Guardian. She lives and works in the San Francisco Bay Area. For more information about Patricia Araujo please visit: www.AbstractMetropolis.com

SPENCER SASS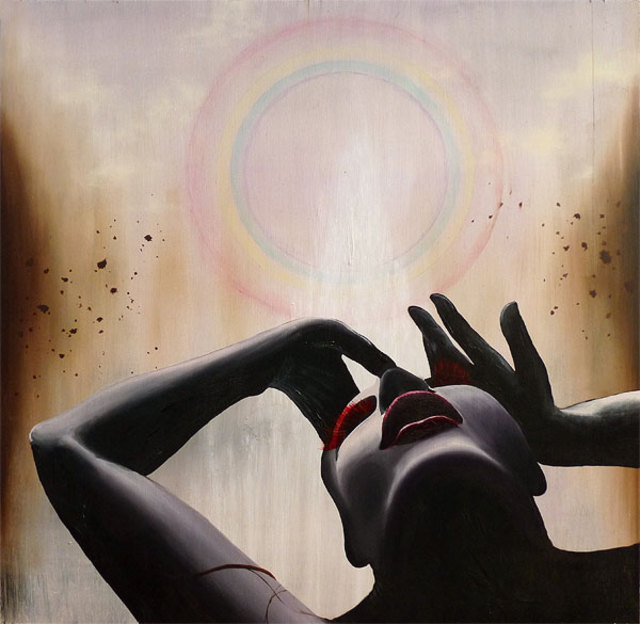 The Transformation, 2.5' x 2.5', oil on wood, by Spencer Sass

Spencer Sass was born in Denver, CO in 1977 and received a BFA from the University of Northern Colorado in Painting and Graphic Design. He participated in multiple study abroad art programs at Humboldt State University, CA and Oxford Brookes University, in England.

After studies, Sass moved to Seattle, WA where he was part of the Art Collective "the Forgotten Works". There he participated in monthly solo and group exhibitions. Since moving to San Francisco in 2007 he's had multiple solo exhibitions in a range of locations from boutique shops to ad agencies. Other side art ventures include a custom built and painted chai cart inspired by the elaborate truck art design of India for the Burning Man Art festival. He also led an international art project on a large scale mural in San Juan del Sur, Nicaragua, for a local childrens art class.

Much of his inspiration comes from travels abroad to areas such as Southeast Asia and India where the colors, typography and religious icons left a lasting impression. For more information about Spencer Sass please visit: www.spencerpaveksass.com

---