MID-MARKET LANDMARKS
01-22-2015 05:38 pm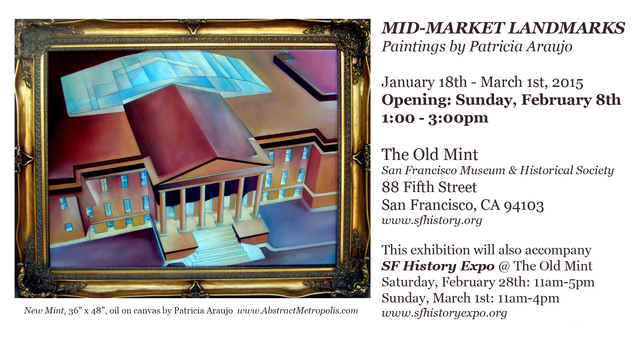 VIEW PHOTOS FROM THE OPENING AND FROM SF HISTORY EXPO!

RADIO INTERVIEW with JULIE MOTZ @ KWMR FM




MID-MARKET LANDMARKS ~ Paintings by Patricia Araujo

The San Francisco Museum & Historical Society (SFMHS) is pleased to present Mid-Market Landmarks, a solo exhibition of paintings by Patricia Araujo at the Old Mint. For over a decade, Patricia Araujo has painted San Francisco's central city architecture. While she lived in the area, she was enchanted by its rich architectural history and the decayed beauty that remains. She continues to paint facades of both iconic city landmarks and abandoned downtown buildings.
Her fascination with domes, towers, sacred and municipal structures began with daily observations of the Golden Gate Theatre at Sixth and Market. Araujo's stately, abstract paintings depict praiseworthy examples of the city architecture, some utilitarian and others grandly ornamental. She portrays survivors of Beaux-Arts San Francisco, such as the Hibernia Bank and the Old Emporium dome. Other notable landmarks include the Warfield, the Forgotten Fox Theatre, the Old Mint, the Federal Building, the thermal plants of 6th & Jessie Streets, and the new high-rise additions in SoMa- the Inter-Continental Hotel and the tallest residential building in the city, One Rincon Hill.
Araujo will have 19 original paintings exhibited at the Old Mint's grand hallway located on the main floor. The majority were painted from 2009 to 2013 and one piece is dated as early from 2002. Her buildings' facades are painted individually and some collectively, capturing panoramic views of the South of Market and beyond.

Join on Sunday, February 8th from 1:00-3:00pm for the opening reception at the Mint! Exhibit dates: January 18th to March 1st, 2015. Even though the reception ends at 3:00pm, the Mint will be open until 4pm. Tours of the building are offered as part of "Sundays at the Mint." Tours usually start at 1:30pm and at 3:00pm, and they last approximately 45 minutes. General Admission is $10.00 and $5.00 for SFMHS members, and free entry to guests of artists during date of reception.

The SFMHS is also thrilled to announce that Araujo's Mid-Market Landmarks exhibition will accompany SF History Expo at the Old Mint during weekend of Saturday, February 28th, from 11:00am-5:00pm & Sunday, March 1st, from 11:00am-4:00pm. Araujo's exhibit participates in SF History Expo and joins with over fifty San Francisco organizations to create "mini-museums" showcasing the diverse history of San Francisco's communities. In addition, there will be historic films, special programs, and more. General Admission is $5.00 to attend SF History Expo. For more information, visit: www.sfhistoryexpo.org

The Old Mint is located at 88 Fifth Street, in San Francisco. It is open to the public on Sundays, from 1:00-4:00pm and during the special programs usually held on the evenings of the second Tuesday of every month. Please note: the Mint will be closed on Sunday, Feb 22nd. Entry to the opening reception for Mid-Market Landmarks occurs on the Fifth Street side (main entrance). Elevator access is available on the Mint Plaza side. If needed, please ring bell and someone will escort you up. To view facebook's event page, please visit: https://www.facebook.com/events/1449464461975640/. To view complete calendar of events and for more information about the exhibits, please visit: www.sfhistory.org or contact: Tel: (415) 537-1105
(415) 537-1105 /info@sfhistory.org
About Patricia Araujo: Patricia Araujo was born in Miami, Florida, and she grew up in Bogota, Colombia. She began drawing at a very early age, always intrigued by architecture and form. Araujo moved to Northern California and studied architecture, painting, and photography. In 2005 she obtained her second B.F.A in Painting from the San Francisco Art Institute. She has been exhibiting in San Francisco since 1998. In 2008, she published her book entitled,"SOMA SEEN" , followed by "SOMA Rising" in 2012. Her work has been written about in the San Francisco Chronicle, Huffington Post, ARTslant, 7x7 SF, Beyondchron, Examiner and the San Francisco Bay Guardian. She lives and works in the San Francisco Bay Area. To view Araujo's complete portfolio & resume, please visit: www.AbstractMetropolis.com
VIEW PHOTOS FROM THE OPENING AND FROM SF HISTORY EXPO!

RADIO INTERVIEW with JULIE MOTZ @ KWMR FM

Please note: This exhibit runs through March 31st

Visit SFMHS for updates on the Mint's calendar of events & dates open to the public
---