Californian Artists at First Thursday After Party with Daylighted
08-29-2016 02:06 pm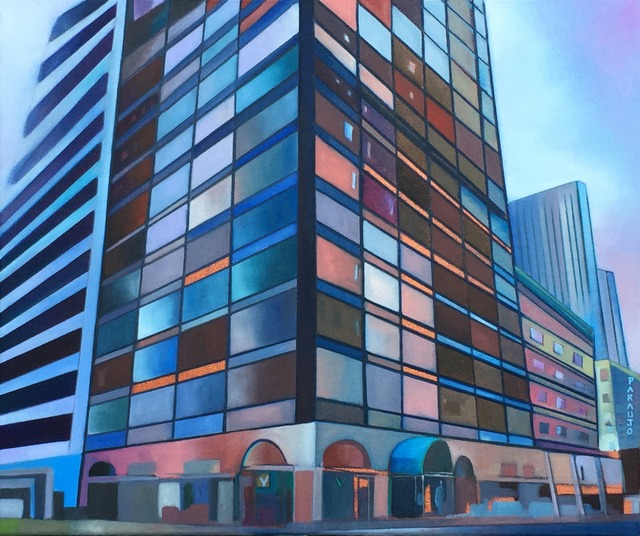 First Republic Bank, 20" x 24", oil on canvas, by Patricia Araujo

Group Show,

Californian Women Artists
at First Thursday After-Party
by Daylighted
Opening: Thursday, September 1st
6:00 - 9:00pm
Phonix Hotel
601 Eddy Street
San Francisco, CA 94109

Upcoming Group Show @ First Thursday After Party with Daylighted at Phoenix Hotel 9/1/16
Hello friends & art lovers!
Thank you to everyone who came to my opening on August 18th at Hotel Zephyr San Francisco! So good to see familiar faces and meet new folks! It was a great pleasure to work with Daylighted founders (Elizabeth & Alex) and curator - Betty Bigas, and with the lovely hoteliers at Zephyr. The works featured on Daylighted's SmArtGalleries (aka "the next generation digital canvas") looked amazing and the reception was a very memorable experience.

I've been invited again to showcase my work with Daylighted SmArtGalleries and for this occasion to accompany the First Thursday of the month Art Walk, for a group show of 5 Californian Women Artists (Patricia Araujo, Anyes Galleani, Silvia Grav, Dilcia Giron, and Leah Tumerman) at the Phoenix Hotel in San Francisco. The opening will take place on Thursday, September 1st, from 6:00 to 9:00pm. Most of the artists (including myself) will be at the event to enjoy the opportunity to discuss our stories, inspirations, and ideas!

Each artist will have their works individually displayed on one of the digital screens and will feature a varied selection of each artist's creations. Each image seen will rotate approximately every 30 seconds, so it is constantly changing colors and compositions. Mine include from both SoMa/Mid-Market Landmarks and Tomorrowland series.

Whether you come to enjoy great art, discover Daylighted's unique art technology, or just checking out the Phoenix's swimming pool, come and join at Chambers restaurant lounge for a great party!

There's limited space, so please register (free admission) through Eventbrite to make sure you can come:
https://www.eventbrite.com/e/daylighteds-first-thursday-after-party-presenting-5-californian-women-artists-tickets-27238631480

Facebook event page!

Above:
Oh Mighty Marriott, My Egypt
, oil on panel by Araujo.
---