The City from SOMA Grand
09-25-2012 01:05 pm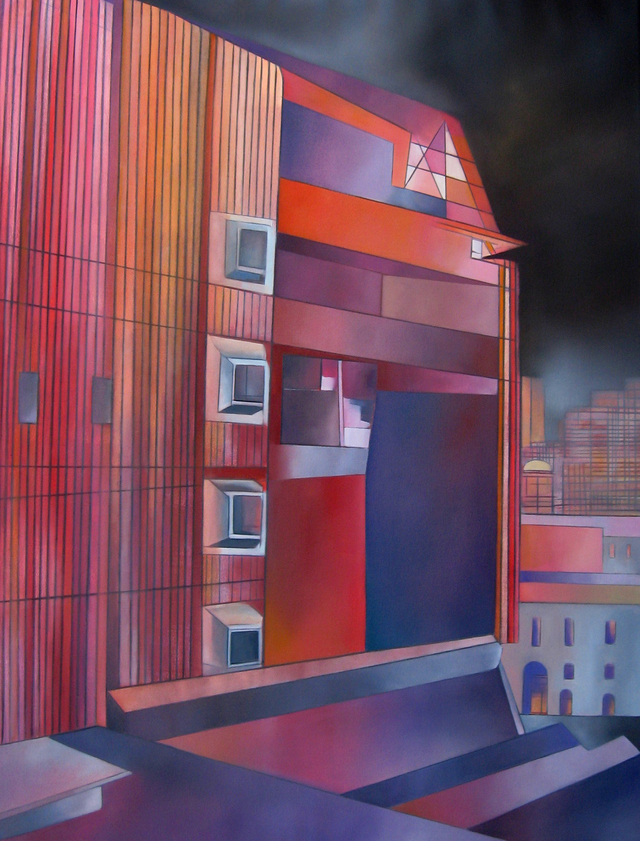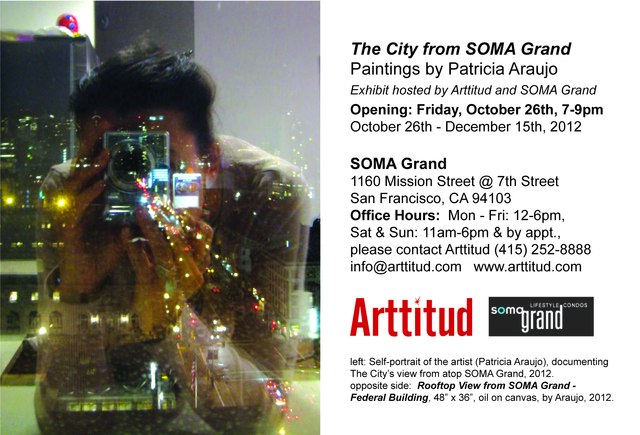 PRESS RELEASE:
San Francisco Bay Area painter Patricia Araujo, steps beyond the scope of her 2008 book "SOMA SEEN" with a new solo show titled, The City from SOMA Grand. Tatiana Takaeva, the creator of Arttitud, is also curating bi-monthly exhibitions at SOMA Grand, a luxury highrise condo centrally located in the South of Market. Takaeva invited Araujo to participate in a solo show scheduled this fall to showcase her new paintings of the city seen from above SOMA Grand.
Araujo has been familiar with SoMa, since she's been painting San Francisco's central city architecture for over a decade, addressing the themes of urban growth and decay. She continues to be enchanted by the rich architectural history of that area and the decayed beauty that remains. Araujo's new works captures fantastic panoramic views of buildings in the South of Market and downtown districts, including notable landmarks like the Federal Building, Transamerica Pyramid, the Marriott Hotel, the InterContinental Hotel, and the tallest residential building in the city - One Rincon Hill. Araujo's paintings highlight the exteriors of complete structures and also depict architectural fragments; playfulness of forms and juxtapozed against painterly skies. Their style is largely abstract, highlighted by bright colors. Each painting is unique in its vision which portray an interpretation of the architecture seen from atop SOMA Grand...a fresh look to San Francisco! A total of 4 paintings, each 48" x 36", oil on canvas will be exhibited and to fit at SOMA Grand's lobby.

PAINTINGS BY ARAUJO
Paintings seen in a linear format for SOMA Grand's lobby.


This exhibition also celebrates Araujo's new book publication, entitled "SOMA RISING". In this monograph are selected paintings by Araujo of her continued interest in the facades of both iconic city landmarks and abandoned downtown buildings. Some of them refurbished and put back into active use, some of them still-handsome abandoned buildings. Featured favorite landmarks by Araujo include the Golden Gate Theatre, the Warfield, the forgotten Fox Theatre, Hibernia Bank, the Old Emporium dome, the Old Mint, the 33 New Montgomery Clock, and the PG&E Power plants of 6th & Jessie Streets. This book finalizes by featuring Araujo's rooftop views from SOMA Grand. Her paintings pay tribute to a marvelous city that continues to rise! "SOMA RISING" is available for purchase online at:http://www.blurb.com/books/3631112 and limited copies offered for sale during the opening. "SOMA RISING" is 40 pages, hardcover/dustjacket, 10" x 8" landscape style book, by Blurb Publishing, October 2012. All text and artwork by Patricia Araujo. Foreword by Jerome Tarshis, Art Critic, San Francisco.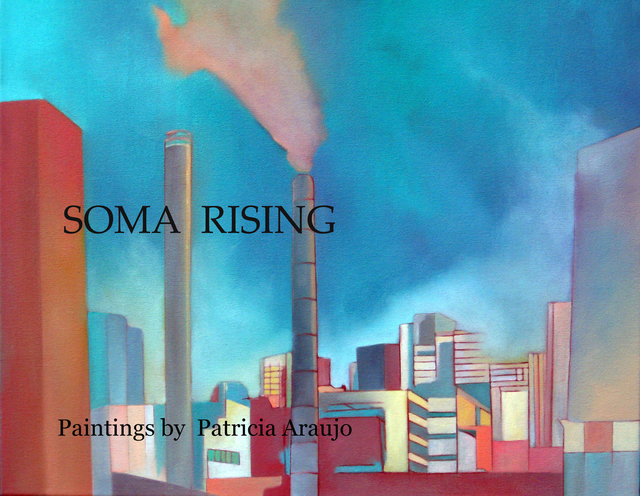 To view book's preview (first 15 pages) please go to: http://www.blurb.com/books/3631112
The painting featured in SOMA RISING book's cover is titled "View from 6th & Jessie Streets", 20" x 24", oil on canvas. This painting is currently exhibited at Arttitud, located at 111 Potrero Avenue, in San Francisco. Arttitud's showroom hours are: Tues-Fri: 10am-6pm and Sat: 11am-5pm.

We are pleased to invite you to the opening reception of The City from SOMA Grand, to be held on Friday, October 26th, from 7:00-9:00pm, at SOMA Grand, 1160 Mission Street, in San Francisco. This exhibition is curated by Tatiana Takaeva and hosted by Arttitud and in conjunction with SOMA Grand. This exhibition shall last through December 15th, 2012.
You are welcomed to stop by SOMA Grand and view the exhibition at the building's lobby which is open to the public daily to 6pm.
View photos from the opening here!
ABOUT THE ARTIST:
Patricia Araujo was born in Miami, Florida, the daughter of Colombian parents. She grew up in Bogota, Colombia and she began drawing at a very early age, always intrigued by architecture and form. After completing high school in Bogota, Araujo moved to Northern California and studied architecture, painting, and photography. In 2005 she obtained her second B.F.A in Painting, from the San Francisco Art Institute. She has been exhibiting in San Francisco since 1998. In 2008 she published her first book, entitled "SOMA SEEN". Her work has been written about in the San Francisco Chronicle, 7x7 SF, ARTslant, Beyondchron, and the San Francisco Bay Guardian. She lives and works in the San Francisco Bay Area. For more information about Patricia Araujo please visit: www.AbstractMetropolis.com


RECENT PRESS:
The City from SOMA Grand, ARTslant, by Wilma Parker, dated December 12th, 2012.
Patricia Araujo's Paintings of SoMa Show a Neighborhood in Perpetual Flux, Huffington Post, by Aaron Sankin, dated November 19th, 2012.
The unveiling of SOMA Rising by Arttitud, Examiner, by Sophie Azouaou, dated November 7th, 2012.
SoMa towers paint new picture for SF, SF Chronicle, by John King, dated October 30th, 2012.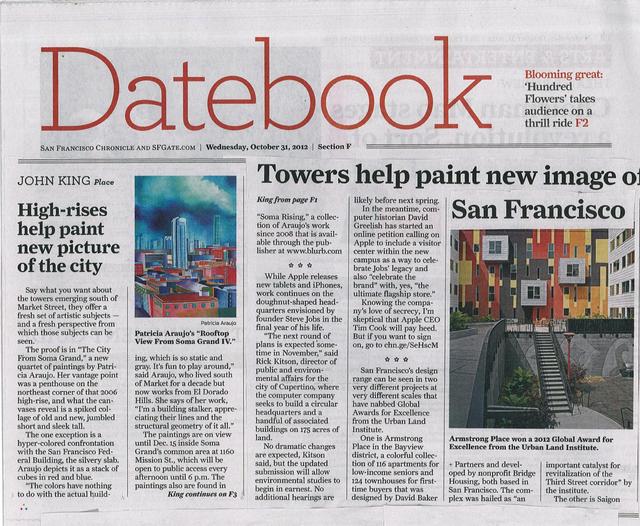 SELECTED PAST PRESS & REVIEWS:
7x7SF - Four Don't-Miss Art Shows This Week SF: "Geometric Goddesses", 7x7 SF, by Alex Bigman, dated March 2012
Heart of the City/SOMA SEEN, ARTslant, dated January 28th, 2009, Review by Wilma Parker
Resuscitating the Heart of San Francisco, by Heather Knight, SF Chronicle, dated December 24, 2008.
"Heart of the City": Structures Built to Last, by Reyhan Harmanci, SF Chronicle, dated November 27th, 2008.
SF BAY Guardian Best Weekly, November 21st, 2008, by Michelle Broder Van Dyke
DA Arts Paintings Selected for Bloomingdale's Opening, Beyondchron.org, by Randy Shaw, dated September, 2006.
Architecture for Bloomingdales - Patricia Araujo @ DA Arts, Beyondchron.org, Review by Wilma Parker


SOMA RISING BOOK
"Patricia Araujo began photographing, drawing, and painting San Francisco's SOMA (South of Market Street) almost as soon as she moved into the neighborhood, during the late 1990s. Her work has been based on drawing in general and architectural drawing in particular. She studied architecture before she studied painting, and since the San Francisco neighborhood where she lived has many interesting buildings, some of them architecturally distinguished, it seemed natural that she should begin by painting what she saw every day".
"Beyond her own neighborhood, San Francisco as a whole can easily be seen an architect's dream city. SOMA Rising explores architectural practice as both imagination and sometimes sad reality. But it ends on a hopeful note: accepting the inevitability of change, its rooftop views show us the city from a vantage point that in itself speaks to the possibility of growth and renewal."
~Jerome Tarshis
---