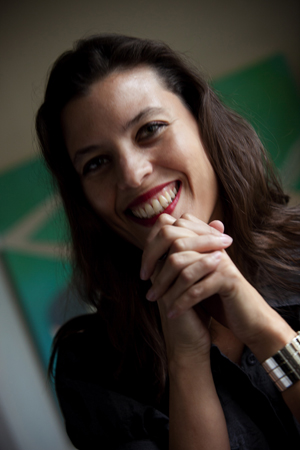 About
ARTIST BIO

ARTIST STATEMENT

INTRODUCTION TO TOMORROWLAND TODAY

ART REVIEWS & PRESS





Photography by: Marc T Kallweit

ARTIST BIO

Patricia Araujo was born in Miami, Fl, the daughter of Colombian parents. Her father was an architect at Walt Disney and during his last years he assisted with the development of Epcot Center. Patricia grew up in Bogota, Colombia and since childhood, she was enchanted by architecture and form - drawing arches and entrances, and designing imaginary floor plans. After completing high school in Bogota, Araujo moved to Northern California to pursue her college education. She studied architecture, painting, and photography. In 2005 she obtained her second B.F.A in Painting, from the San Francisco Art Institute.

For over a decade, Patricia Araujo has painted the facades of both iconic city landmarks and downtown buildings. Her paintings depict praiseworthy examples of San Francisco architecture, some utilitarian and others grandly ornamental. She's been bewildered by the architecture of cities she's lived and traveled to and by imaginary places. From 2008 to 2010, she dedicated a series of works relating to Tomorrowland and as of most recent she's devoted to painting the architectural wonders and forgotten treasures of "GGIE" (the Golden Gate International Exposition of 1939 at Treasure Island) - the last World's Fair of San Francisco Bay. Her interest in researching the urban landscape continues to grow, addressing the evolution and decay within a city. Araujo continues to deepen her conceptual themes on architecture, place and change in the urban landscape.

She has been exhibiting in San Francisco since 1998. Some of the venues exhibited include: Arc Gallery, Arttitud, Bayview Opera House, HANG ART, Roll Up Gallery, STUDIO Gallery, the Old Emporium, Pen Club Gallery in Budapest and most recent at the Old Mint with Treasure Island Museum. In 2008, she published her first book, entitled "SOMA SEEN". Her work has been written about in the San Francisco Chronicle, ARTslant, 7x7 SF, Huffington Post, Examiner, Beyondchron, and the San Francisco Bay Guardian. She lives and works in the San Francisco Bay Area. To view her complete portfolio and resume online please visit: www.AbstractMetropolis.com




Since the late 1990's, I've painted (in oils on canvas) the facades of both iconic city landmarks and abandoned downtown buildings of San Francisco's SoMa (South of Market) and Mid-Market neighborhoods. I continue to paint the central city's architecture, and have also focused with other projects alongside. From 2008 to 2010, I dedicated a series of works relating to an imaginary Tomorrowland, and as of most recent, I've devoted to painting the architectural wonders and forgotten treasures of "GGIE" (the Golden Gate International Exposition of 1939 at Treasure Island) - the last World's Fair of San Francisco Bay. This shall be a large project to complete by late 2018, and to accompany the 80th anniversary celebration of the fair.
While living in SoMa, I was enchanted by its rich architectural history and its diverse styles, from Beaux-Arts tradition and Art Deco inspired, to factory warehouses and industrial sites, and now in contrast with the new high-rise and commercial buildings that continue to be built and expand for a new city. My paintings depict praiseworthy examples of the city architecture, some utilitarian and others grandly ornamental, from both old and new. My fascination with domes, towers, sacred and municipal structures began with daily observations of the Golden Gate Theatre at Sixth and Market. Other notable landmarks that I've painted include the PG&E thermal plants of 6th & Jessie, the Hibernia Bank, the Old Mint, the Warfield, Old Emporium, the Federal Building, the Palace Hotel, The Marriott, and the new high rise additions -the InterContinental Hotel and the tallest residential building in the city - One Rincon Hill.

My latest SoMa paintings were originally conceived from photographing at the 12th floor of SOMA Grand building (located at Market and 8th Streets), and where I witnessed the panoramic views that capture the South of Market and many of the sites that I've painted before and now collectively. In my cityscapes, I sense the presence of the silent stage uninterrupted by inhabitants. These paintings highlight the exteriors of complete structures and also depict architectural fragments. Their style is largely abstract. Playfulness of forms, juxtaposed against painterly skies. Painted in bright colors, and opposing to its usual grey fog and in the hopes to bring an up-lift from the blight that has been present. A marvelous city that is in constant flux and with plenty of inspiration for future paintings.

"Araujo reminds us that the buildings of our cities' commercial neighborhoods were architects' fantasies before they became assertive new realities and then, after the passage of time, objects of nostalgia. Her paintings as a whole, reaffirms the city's daydream of itself as a uniquely beautiful amalgam of past and present." (By Jerome Tarshis, excerpt taken from Araujo's book, "SOMA SEEN").
INTRODUCTION TO TOMORROWLAND TODAY
For over a decade, I've painted the architecture of San Francisco's South of Market and Mid-Market neighborhoods. While living in downtown San Francisco I found myself enchanted by the rich architectural history of that area and the decayed beauty that remains. I've continued to paint facades of iconic city landmarks, some of them refurbished and put back into active use, some of them still-handsome abandoned buildings.

Those paintings are my celebration of a suddenly rich city that looked to an ever-expanding future. Since 2008 I've developed a new series of paintings, Tomorrowland Today. The newer series was inspired by futuristic, classical, and industrial architecture; the specific point of departure was finding photographs of circus arenas in Romania and Ukraine. The structures I've brought together in these paintings also include coliseums, citadels, and roller coasters.

My father was an architect and worked for Walt Disney Imagineering during the 1970s and 1980s, and while I was a child I visited Disney World every summer. It was there that I was first fascinated by amusement parks. I am still captivated by Disney's Epcot Center and the Florida version of Tomorrowland, and in particular by the Space Mountain ride, which has become an American icon for kids and adults.

I see resemblances between Space Mountain and another structure, a circus building in the city of Dnepr, Ukraine, a city that became Russia's major center of steel production early in the 20th century. Dnepr has also been an important center of aerospace and nuclear-weapons development; in that sense it is a city of the technological future. Not an amusement-park Tomorrowland, but a real one. There are similarities between the two buildings' design and also in their function as places of entertainment. For this series I have created my own version of the Dnepr circus building, which appears as a spaceship and recurs in many of these paintings, acting as a unifying element.

My Tomorrowland paintings highlight the exteriors of complete structures, but also depict architectural fragments and decorative elements. Their style, another unifying element in this series, is largely abstract. Individual elements have sharp, precise edges, highlighted by bright, flat colors. The style has more in common with the abstraction of architectural drawing than with realistic painting.

These imaginary cityscapes are a mixture of old and new constructions from various places, East and West. I have sought to bring centuries of utopianism and hope for the future together in a fantasized present, as that present might be created in an architect's or a painter's vision. Designing an amusement park for Disney Imagineering has something in common with designing the new landscape of the aerospace industry, and by now the futuristic designs of both Disney and aerospace have become part of the human imagination.