Architect of the Pacific
04-11-2014 07:45 am

Court of Pacifica, 36" x 24", oil on canvas, by Patricia Araujo, 2014.


Architect of the Pacific
Therese Poletti's lecture, "Architect of Pacific Unity: How Timothy Pflueger shaped the art and architecture of the GGIE"

My latest painting (seen in photo above), "Court of Pacifica", will be on display on Saturday, April 12th, during the lecture by Therese Poletti at Treasure Island to continue celebrating the 75th anniversary of the Golden Gate International Exposition.

Poletti's topic is "Timothy Pflueger: Architect of Pacific Unity." His Federal Building was one of the fair's most modern designs, and his Court of Pacifica one of its most beautiful. His genius also presided over "Art in Action" and its many artists including Diego Rivera, Dudley Carter, Hermann Volz, and others.

Poletti is an award-winning journalist and recipient of an Art Deco Society of California Preservation Award. Poletti's "Art Deco San Francisco: the Architecture of Timothy Pflueger" (Princeton University Press, 2008) is a stunning tribute to Pflueger and the definitive book on his life and work. To learn more about Poletti, visit: http://timothypflueger.com/

Looking forward to attending this special lecture and so honored to showcase this new painting (an abstract representation of the statue of Pacifica, that stood at her court from 1939-40) with Treasure Island Museum and to accompany Poletti's grand lecture. Event is on Saturday, April 12th at Treasure Island, Building One, starts at 10:30am. (Free admission). For more information, go to: http://www.treasureislandmuseum.org/

Below is photo taken from Saturday's event at Treasure Island. It was wonderful to meet Poletti and get an autographed copy of her book, "Art Deco San Francisco", and meet the fabulous Art Deco Society folks!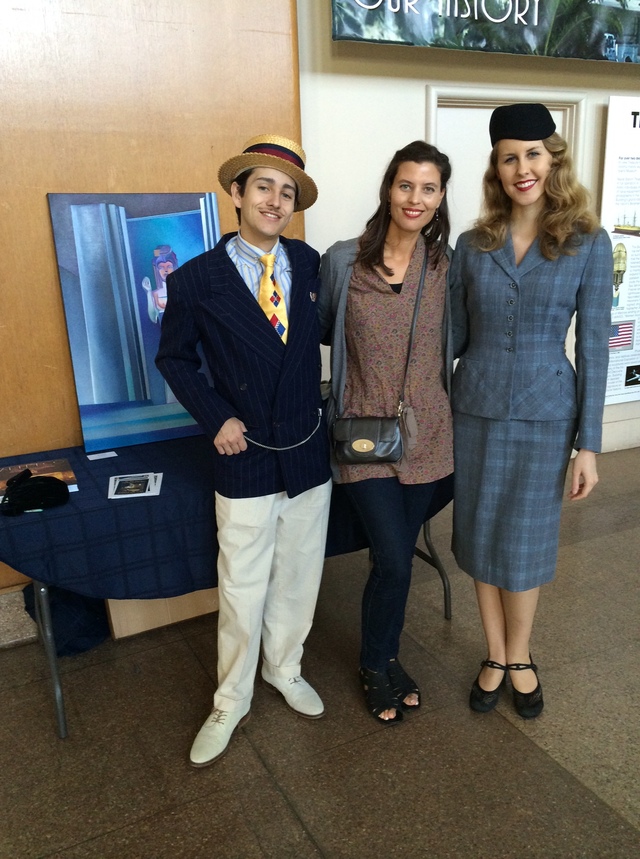 Photo taken at Treasure Island Museum, left to right: Jonathan, Patricia and Katrina
---