Abstract Metropolis
01-06-2018 02:45 pm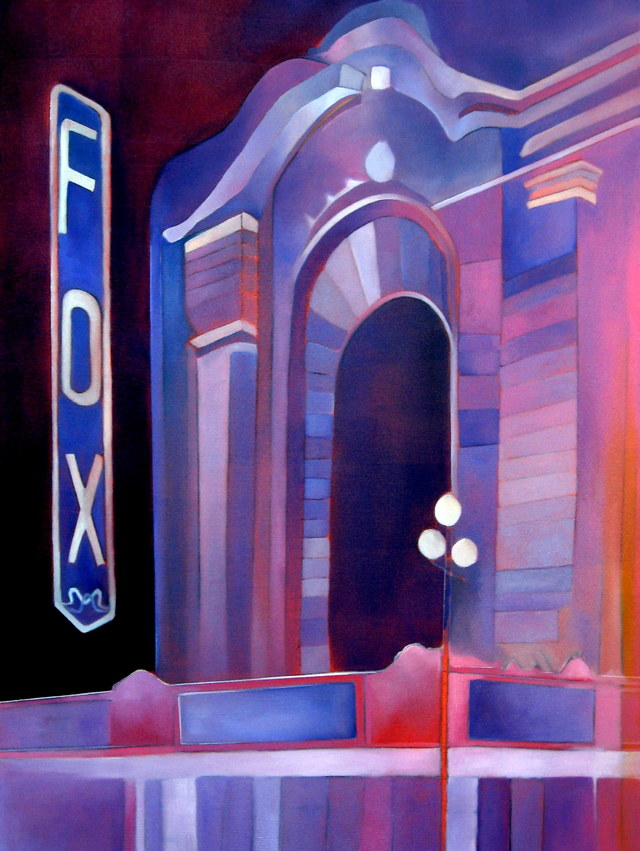 ABSTRACT METROPOLIS
PAINTINGS by PATRICIA ARAUJO
Curated by Daylighted
January 18th - March 31st, 2018
Opening: Thursday, January 18th
6:00 to 8:00pm
PARISOMA
169 11th Street
San Francisco, CA 94103
SCROLL DOWN TO VIEW PHOTOS FROM THE OPENING!

Greetings and Happy New Year!
2018 is officially here and excited to share with you that I've been invited to exhibit for a solo show, titled "Abstract Metropolis" at Parisoma- a fabulous co-working space, located at 169 11th Street in San Francisco. This exhibit is curated by Daylighted and hosted by Parisoma.

There will be 13 original paintings relating to Mid-Market and SoMa architecture on view at the site. The paintings selected date back from 2007 to 2013 and have recently painted some new pieces for this show. Imagery include of the Hibernia Bank, the Golden Gate Theatre, Inter-Continental Hotel, the Federal Bldg, the Old Mint, the Marriott Marquis, "Furniture & Carpets", and other city landmarks.

The opening will be held on Thursday, January 18th from 6:00 to 8:00pm.
Join for food and wine and come explore Abstract Metropolis! Exhibit runs thru March 31st.

For more information, (scroll down) and if interested in attending the opening, visit event page to RSVP.
Feel free to share with others that may enjoy this exhibit.
Would be lovely to see you!

DESCRIPTION:

Parisoma presents:

A colorful exhibition of Iconic city landmarks and downtown buildings by the local artist Patricia Araujo.
Her paintings pay homage to San Francisco's central city's building facades of both old and new. They're painted individually and some collectively, capturing panoramic views of the South of Market and beyond. Her works speak about the possibility of growth and renewal, and exploring architectural practice as both imagination and reality. A marvelous city that is in constant flux. For complete portfolio and resume online please visit: www.AbstractMetropolis.com

Curated by Daylighted.com
Event Page to RSVP!
Facebook event page!
ABOUT THE ARTIST:
Patricia Araujo was born in Miami, Fl, the daughter of Colombian parents, and she grew up in Bogota, Colombia. Since childhood, she's been enchanted by architecture and form – drawing arches and entrances, and designing imaginary floor plans. After completing high school in Bogota, Araujo moved to Northern California to pursue her college education. She studied architecture, painting, and photography. In 2005 she obtained her second B.F.A in Painting, from the San Francisco Art Institute.

Since the late 1990's, Patricia Araujo has painted the facades of both iconic city landmarks and downtown buildings. Her paintings depict praiseworthy examples of San Francisco architecture, some utilitarian and others grandly ornamental. She's been bewildered by the architecture of cities she's lived and traveled to and by imaginary places. From 2008 to 2010, she dedicated a series of works relating to Tomorrowland and as of most recent she's devoted to painting the architectural wonders and forgotten treasures of "GGIE" (the Golden Gate International Exposition of 1939 at Treasure Island) – the last World's Fair of San Francisco Bay. Her interest in researching the urban landscape continues to grow, addressing the evolution and decay within a city. Araujo continues to deepen her conceptual themes on architecture, place and change in the urban landscape.

She has been exhibiting in San Francisco since 1998. Some of the venues exhibited include: Arc Gallery, Arttitud, Bayview Opera House, HANG ART, Roll Up Gallery, STUDIO Gallery, the Old Emporium, Pen Club Gallery in Budapest and most recent at the Old Mint with Treasure Island Museum. In 2008, she published her first book, entitled "SOMA SEEN". Her work has been written about in the San Francisco Chronicle, ARTslant, 7×7 SF, Huffington Post, Examiner, Beyondchron, and the San Francisco Bay Guardian. She lives and works in the San Francisco Bay Area. To view her complete portfolio and resume online please visit: www.AbstractMetropolis.com
---